GHOST MOUNTAIN
Family Adventure Mountain in the Province of Salzburg.
All aboard for Ghost Mountain!
Let the Alpendorf Village Gondola start you on your ghostly adventure! Once you reach the summit station you are welcome to board the Ghost Train for the amazing ride to the adventure park. Hiking enthusiast can also use well-marked trails instead. Whatever your mode of transport – all roads lead to Ghost Mountain!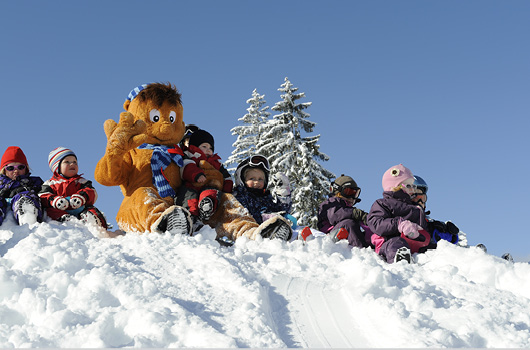 WAGRAINI
A nice, comfortable ride up to the middle station of the "Rote 8er" gondola takes you to the heart of WAGRAINi's Winterworld.
WAGRAINi will be there when you have your first go at skiing. Try the magic carpet, before you make your first little turns down to WAGRAINi or to the Edelweiß Lift. The loooooooooooooong forest magic carpet takes you to the tubing slope where you can also find the Kids Beginners' Snowpark. It gets creative in WAGRAINI's dwarf house : painting, handicrafts, picture books etc…. Warm yourself up before you go back out for more fun in the snow. Mum, Dad, Granny, Grandpa… we look after you too! Even if you don't ski, you can take your pushchair or your sledge in the "Rote 8er" gondola and have a fun time in the snow. Single tickets for non-skiers are available.
(Quelle: www.bergbahnen-wagrain.at/de/skifahren-kinder-wagrain)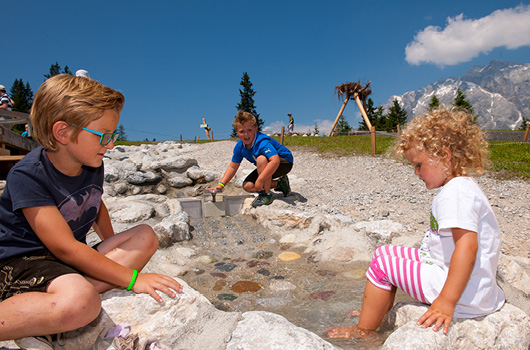 TONI´S ALM PLAYGROUND
Mühlbach am Hochkönig
Auf geht´s die Kabinenbahn Karbachalm bringt euch in wenigen Minuten bequem zu Toni's Almspielplatz.
Dort oben lassen zahlreiche Spielstationen jedes Kinderherz höher schlagen. Im eigenen Wasser- und Sandspielplatz können die Kleinsten Ihrer Kreativität freien Lauf lassen, während die "Großen" die Gastfreundschaft und das kulinarische Angebot der Karbachalm genießen können.
Natürlich darf auch einer kleinen Wanderung nichts im Wege stehen – und das im wahrsten Sinne des Wortes – denn der umliegende Wanderweg wurde barrierefrei gestaltet, so dass Sie mit Kinderwagen bequem spazieren können.
Sie genießen dabei ein einzigartiges Panorama – und auch Ihre Kids werden diese Wanderung lieben, weil auf der gesamten Strecke ebenfalls lustige Spielgeräte für viel Spaß und Abenteuer sorgen.